The campaign for a new Cal Teaching Kitchen
As the birthplace of the nation's first nutrition program, the College of Natural Resources (CNR) is already leading the fight to combat the obesity epidemic. The Department of Nutritional Sciences & Toxicology's Didactic Training Program in Dietetics prepares future dietitians for positions in health care, education, industry, government, community health, and in professional organizations. Our faculty lead the field as researchers on metabolic health and nutrition. And our students—who achieve a remarkable 100 percent pass rate on their Registered Dietitian exams—are educated in the biological and chemical sciences with specialized advanced coursework that focuses on nutrient/non-nutrient function and metabolism. As our future dietitians, they will make the dietary recommendations to help us achieve optimum health, prevent chronic disease, and ensure safe food production.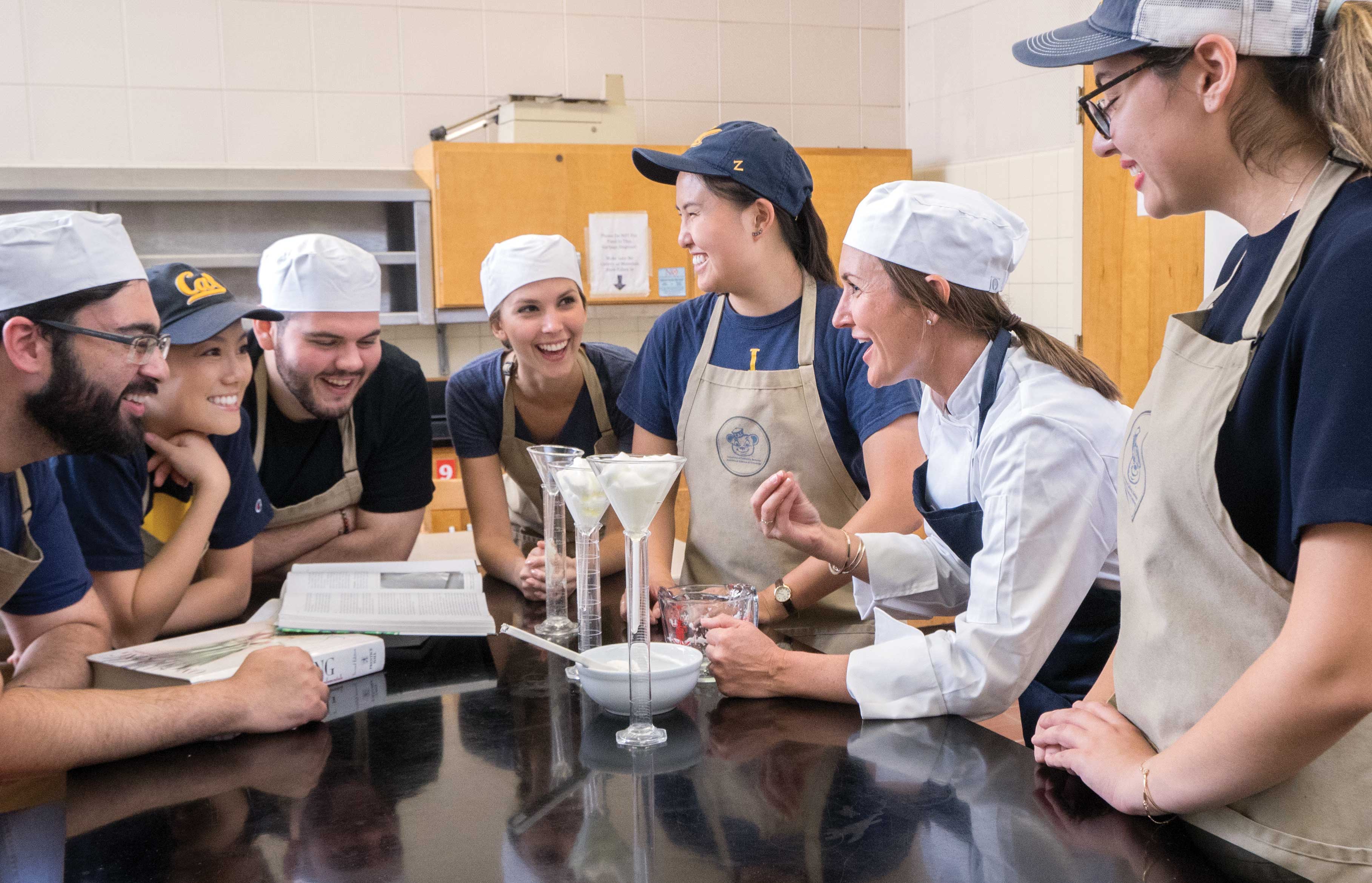 At the heart of this exceptional program is the Cal Teaching Kitchen, which serves as the laboratory for dietetics students. In addition, the facility is used by campus health services, Cal Athletics, and student clubs. It's also where the popular Personal Food Security and Wellness course (NUSCTX 20) teaches students from across campus how to prepare healthy meals on tight budgets. This class is now more necessary than ever, as a recent study showed that 39% of undergraduate students and 23% of graduate students at UC Berkeley lack reliable access to sufficient quantities of affordable, nutritious food because of limited money or other resources. 
Today the Cal Teaching Kitchen is too small to accommodate current class sizes. It hasn't been renovated since its construction in 1953, while Berkeley's student body has grown dramatically. The kitchen accommodates some 2,200 student visits per year in a space that was designed and built for a much smaller group. An old-fashioned layout limits the ways culinary courses can be taught and presents a challenge in meeting current academic needs, let alone pursuing a vision of future excellence.
The department needs a facility that will allow dietetics students the space to experiment beyond their classroom work; a place where other students can learn to cook for themselves on a budget; a site where staff can sharpen cooking skills and faculty can innovate new curricula. Berkeley deserves a culinary center where members of the campus and surrounding communities can gather and learn how to take control of their health through cooking.
A facility to match our potential
To bring the Cal Teaching Kitchen up to par with its outstanding programs, we're seeking to raise $2.5 million in capital funds to build a state-of-the-art facility that will support the academic needs of dietetic students while providing a teaching resource for the larger campus and community. We intend to be both inspired by—and to inspire—the world-class chefs and food experts of Northern California. We will become a leader in culinary innovation and food preparation while advancing our knowledge of human nutritional requirements.
Designed to match the 1,708 square-foot layout of the existing site, the kitchen's new format will provide each student group its own ADA-accessible cooking station, increased counter space, and a highlighted instructor station. State-of-the-art equipment will include gas ranges, energy-efficient appliances, and commercial-grade refrigerators and dishwashers. An adjacent patio will extend the learning and community engagement outdoors.
The Opportunity to Make a Difference
The new Cal Teaching Kitchen will have a ripple effect that stretches far beyond the Berkeley campus. Your generous gift will enable us to fight obesity and its associated chronic diseases. To improve food security on the Berkeley campus and in the surrounding community. To train the next generation of nutrition thought-leaders and practitioners. And to empower students and others to take control of their health through cooking. It all begins in the kitchen.
Review our full case statement or contact Kathryn Moriarty Baldwin or Andrew Judd for more information on how to support our efforts.