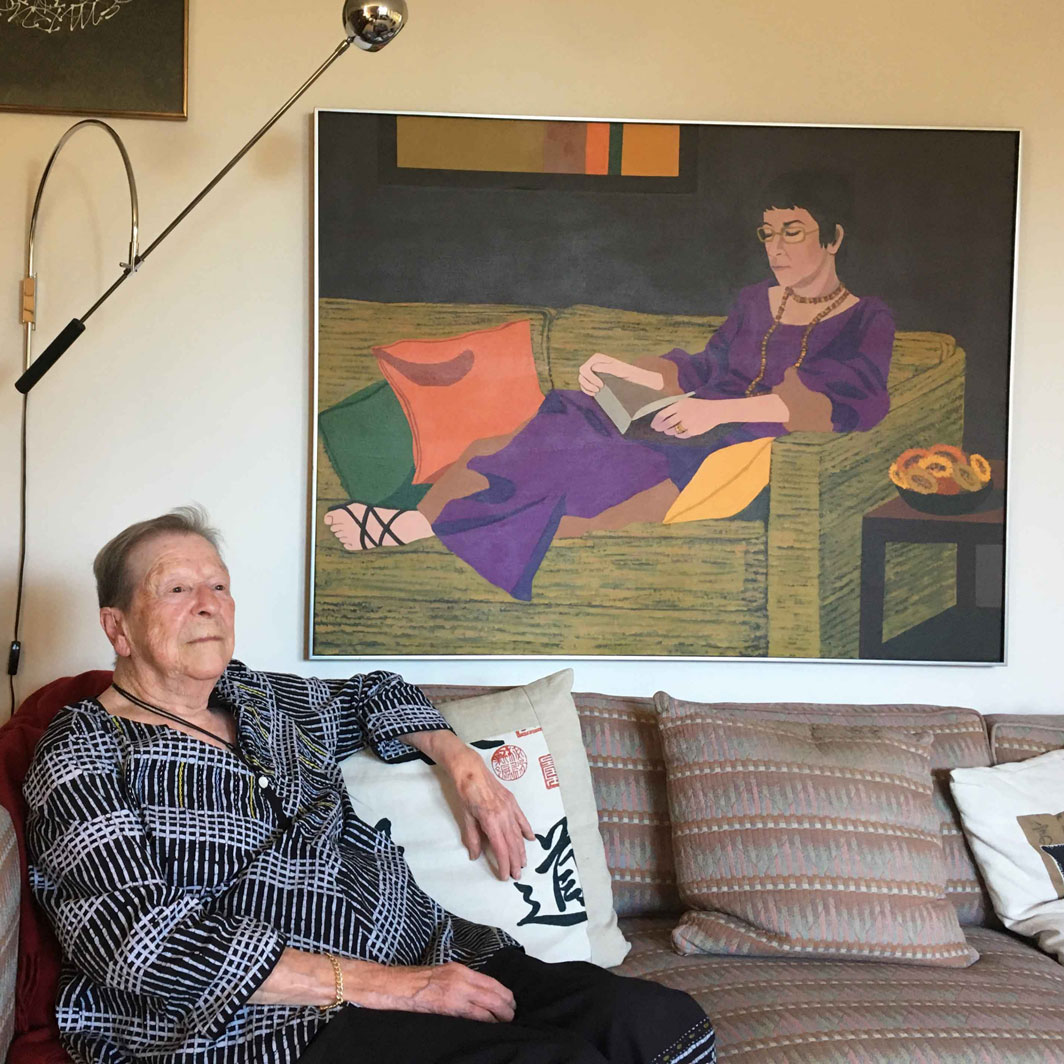 The Department of Nutritional Sciences and Toxicology is saddened to learn of the passing of Professor Emerita Angela Little, who died peacefully in her home on September 19, 2023, at the age of 103.
Little was born on January 12, 1920, in San Francisco to parents who had emigrated from Italy and Germany. She was the second of five siblings and had cultivated a deep love of learning from a young age. She graduated from Galileo High School at the age of 15 and attended UC Berkeley on a scholarship, where she graduated in 1940 with a BA in Bacteriology and Biochemistry.
Throughout her career, Little was a trailblazer and tireless advocate for women in the sciences. She dreamed of going to medical school but could not afford the tuition, opting instead to work as a lab technician and research chemist in the Bay Area. Little spent time in medical laboratories, at a local coroner's office, and was among the first three women hired in a technical role by the Research and Development office for Standard Oil of California.
Little served in the Women's Army Corps during World War II and later returned to a woman-owned clinical lab after the war. It was there that she met her future husband, George, who worked as a CPA. The two married in 1947 and had their only child, Judith, in 1948.
At 31, Little returned to UC Berkeley intent on earning a master's degree in biochemistry. She was no stranger to sexism and chauvinism by that point in her career, and encountered it during a meeting with the department chair that prompted her to change majors.
"The discrimination that Angela faced as a scientist never diminished the joy she found in discovery, teaching, students, or the arts," said Keith Gilless, a professor emeritus and former Dean of Rausser College of Natural Resources. 
Little completed her PhD in agricultural chemistry in 1969 and subsequently joined the faculty in the Department of Nutritional Sciences. Her research focused on the human sensory system and our relationship to food and color. She published studies on topics that examined color in fish and wine and wrote a book titled The Color of Food, which she co-authored with her doctoral advisor, Professor Gordon Mackinney. She advocated for undergraduate education within the College, developing the undergraduate course Human Food Practices and contributing to forming the Conservation and Resource Studies major. 
She also served as chair of the Senate Committee on the Status of Women and Ethnic Minorities and chair of the Committee on Undergraduate Scholarships and Honors. Little helped found the Reentry Women's Program, a campus organization that supported women returning to university study and work after maternity leave.
After her retirement in 1985, Little remained active in academic life and initiatives that supported women and other underrepresented groups in education. She established the Angela C. Little Graduate Student Support Fund, which supports high-achieving graduate students within the Rausser College of Natural Resources.
"Early in my career, she had a major influence on my opinions and actions with respect to our obligations to help students succeed," said Gilless, who remembered her as both generous and wise. "I benefited later as a dean from her advice on how I could make Berkeley a better place for all members of the campus community."
An obituary published in the San Francisco Chronicle described Little as a brilliant, curious, and fiercely independent woman who loved intellectual conversation, books, crossword puzzles, and Scrabble. She loved classical music and art, with tastes surely influenced by her photographic memory and world travels. 
Little is preceded in death by her parents, Alfredo and Elizabeth Capobianco; her husband, George; and her siblings, Rosalia, Olga, Margherita, and Alfredo. She is survived by her daughter Judith, granddaughters Abby and Erin, and great-grandson Kailen
A gathering to share stories and celebrate Angela's life is planned for early 2024. In place of flowers, the family asks that donations be made to the Museo Italo Americano or The Angela C. Little Graduate Student Support Fund.
Checks should be mailed to:
University of California, Berkeley
Gift Services, UDAR
1995 University Avenue, Suite 400
Berkeley, CA 94704-1070
Read More